Kingman Turquoise Rough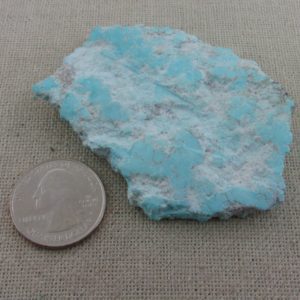 The Kingman Turquoise rough that is featured on this website is from the L.W. Hardy collection. Natural turquoise is indeed, rare, and is sold by the gram.
Leonard W. Hardy was a man granted the rights to turquoise found at the Kingman copper mines back in the 1950's.
This particular lot of turquoise was purchased directly from Mr. Hardy's Grandson, who still lives in Kingman, Arizona. To learn more about Mr. Leonard Hardy, please click HERE!
Kingman Turquoise has been identified in over 30 different colors. This particular lot was mined over 40 years ago, and has a distinct rich blue color.
*Please Note: These are specimen pieces and is not suitable for cabbing or for jewelry. They are strictly display pieces. They are 100% natural and features the characteristics often found in Kingman turquoise. The white crystals are quartz, the grey to brown material is Kaolin (Clay), and the black areas are Hematite. If you wish to use it in jewelry, it requires stabilization.