First of all, below is a look at real turquoise from mines throughout the Southwest United States. Most noteworthy, the purpose of this page is to hopefully introduce you to the different colors and characteristics of a select group of well known mines. Consequently, there is an abundance of misinformation and even fraud on the world wide web. As a result, with a little knowledge and familiarization, you will be much better prepared to buy turquoise from local shops or the Internet!
In conclusion, you should study the following pictures and descriptions of these examples. Especially relevant, these photographs show the differences and similarities between the different mines. In addition, please pay particular attention to the color and matrix. Also, examine the spider web or lack of matrix in the following examples. 
FIRSTLY, THIS IS BISBEE FROM THE FAMOUS LAVENDER PIT MINE IN BISBEE, ARIZONA:
Bisbee has not been mined in over 40 years.                                                                                

Most noteworthy, it is very distinctive with blue and lavender coloring. 
SECONDLY, BELOW IS REAL BLACK DIAMOND FROM NEVADA:
BLACK DIAMOND HAS BLACK CHERT MATRIX                       

THIS EXAMPLE IS DIRECTLY FROM THE MINER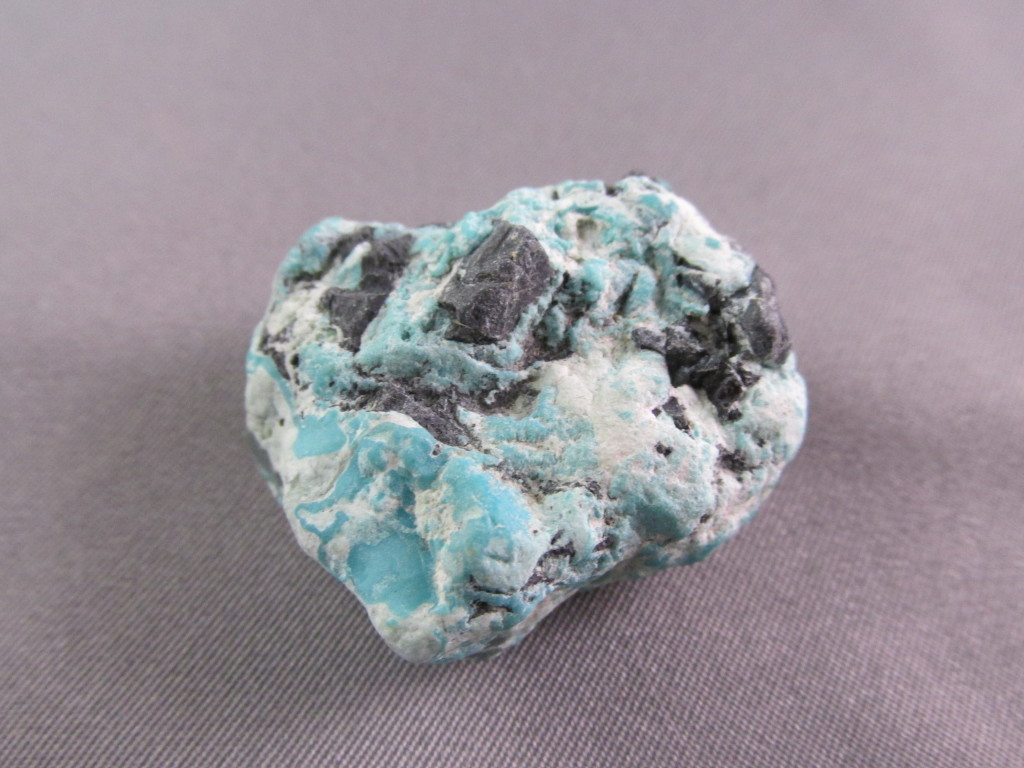 BELOW IS REAL CANDELERIA "RIBBON". AS A RESULT, IT IS FROM THE VICINITY OF MINA, NEVADA:
MINED FROM THE NORTHERN BELLE SILVER MINE.

CONSEQUENTLY, THIS EXAMPLE IS DIRECT FROM THE STONE CUTTER.

NOTE THE GREY HOST ROCK, INDICATIVE OF CANDELARIA.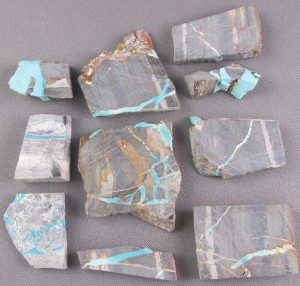 BELOW IS REAL KINGMAN FROM KINGMAN, ARIZONA :
THIS EXAMPLE IS REAL, BUT IS STABILIZED (AS IS THE MAJORITY OF TURQUOISE).

CONSEQUENTLY, THE KINGMAN MINE CONTINUES TO PRODUCE THOUSANDS OF POUNDS ANNUALLY. AS A RESULT, IT IS THE LARGEST PRODUCING MINE IN THE UNITED STATES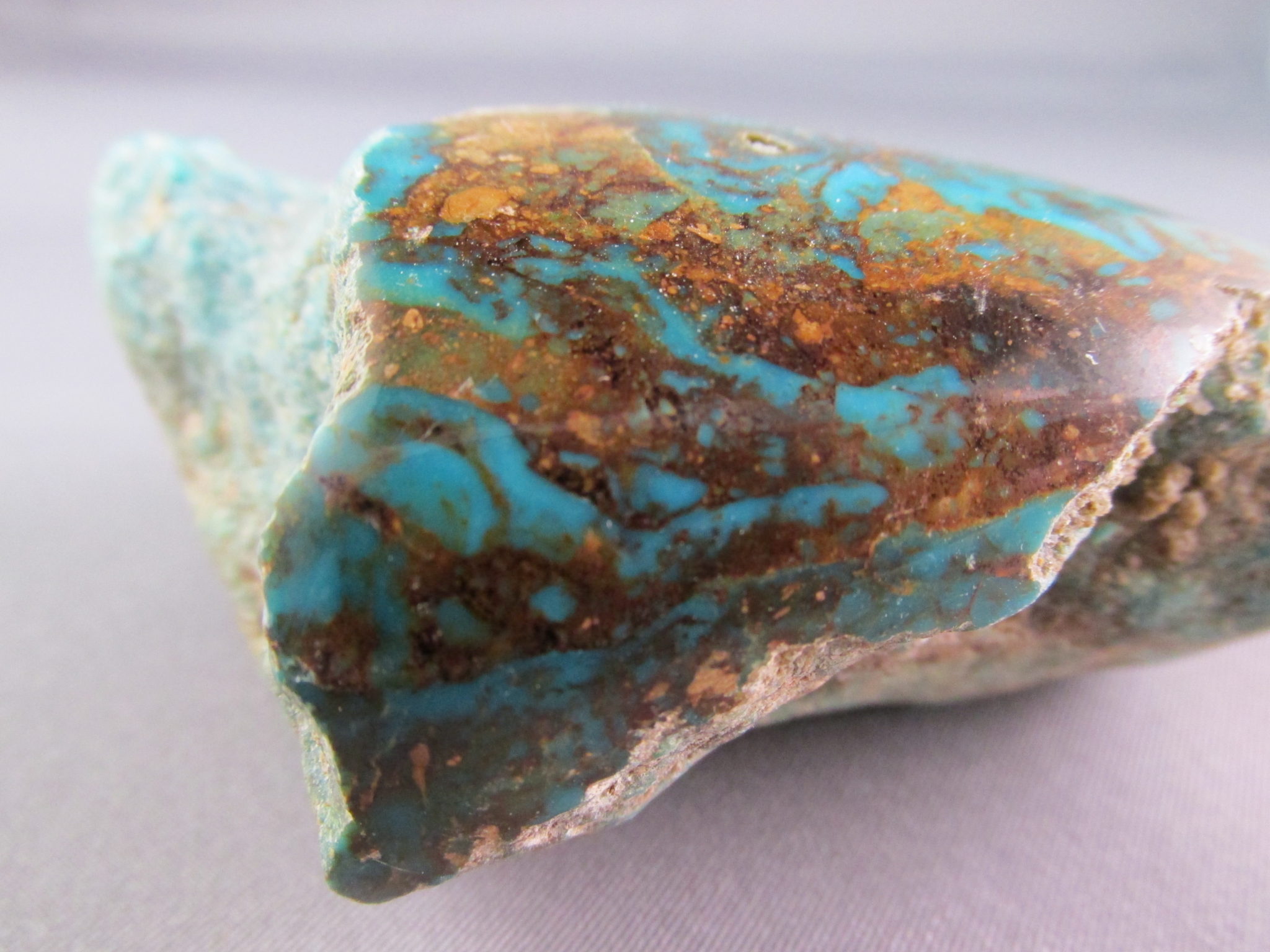 BELOW IS REAL NUMBER 8 FROM EUREKA COUNTY, NEVADA:
ALMOST ALL OF THE STONE FROM THIS MINE HAS SPIDER WEB.                           

MOST OF ALL, THE MATRIX CAN BE RED BROWN, GOLDEN BROWN, OR BLACK.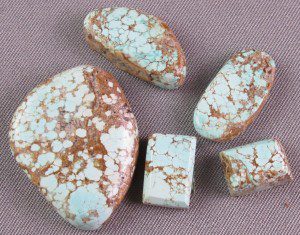 BELOW IS REAL ROYSTON FROM THE ROYSTON MINING DISTRICT OUTSIDE TONAPAH, NEVADA:
NOTE THE VARYING COLORS FROM BLUE TO GREEN.

ESPECIALLY RELEVANT, THE ROYSTON MINING DISTRICT IS ONE OF NEVADA'S BETTER KNOWN PRODUCING AREAS WITH OSCAR WEHREND, ROYAL BLUE, AND THE BUNKER HILL MINE BEING THE TOP THREE MINE SITES.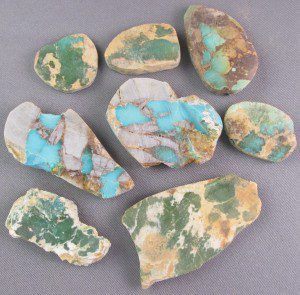 BELOW IS REAL SLEEPING BEAUTY FROM THE SLEEPING BEAUTY MINE NEAR GLOBE, ARIZONA:
THIS IS REAL AND NATURAL, STRAIGHT FROM THE GROUND.                     

CONSEQUENTLY, THIS EXAMPLE IS DIRECT FROM A MINING FOREMAN FROM THE SLEEPING BEAUTY MINE.                                                                                                           

HENCE, SLEEPING BEAUTY IS THE FAVORITE OF THE ZUNI INDIANS DUE TO THE UNIFORM COLOR AND LACK OF MATRIX.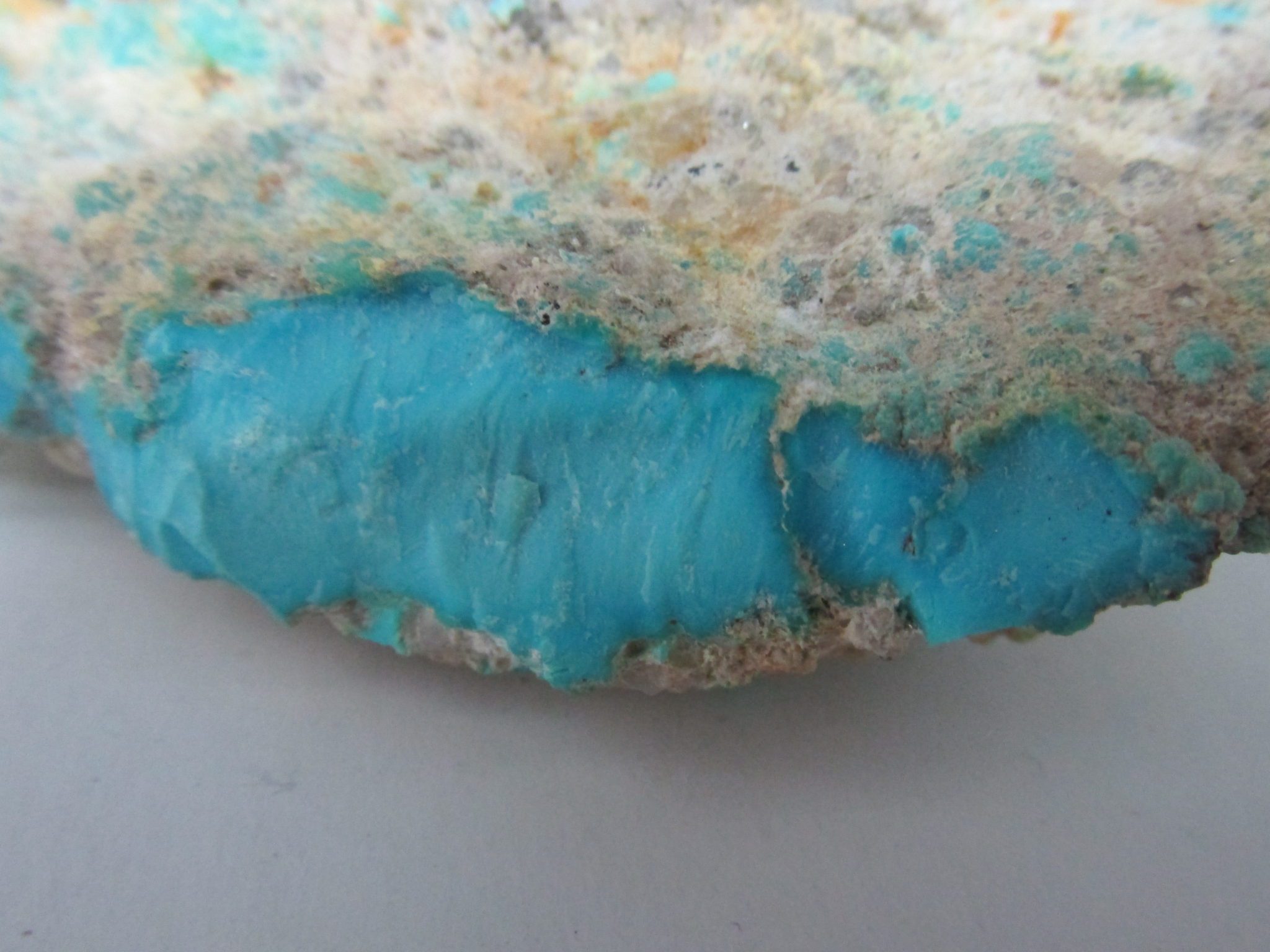 In conclusion, if you are not going out to mine turquoise yourself, you need to find a dealer who sells "real turquoise."  As a result, may we suggest our selection inside the American Antique Mall in Tucson, Arizona.  In addition, we've been buying and selling real turquoise rough, cabochons, and real turquoise jewelry for over 25 years.
Consequently, we currently we have for sale:
Natural Bisbee from the Lavender Pit, Bisbee, Arizona (Mine now Closed)
Real Cripple Creek from Cripple Creek, Colorado
Natural Ithica Peak from Kingman, Arizona 
Real Hachita from New Mexico
Natural Kingman from the W.L. Hardy collection.
Real Nacozari from Mexico, just South of Bisbee, Arizona (Mine now Closed)
Natural Baja from Baja, California
Stabilized Campitos from Sonora,Mexico
Natural Sleeping Beauty from Globe, Arizona (Mine now CLOSED)
In conclusion, to learn more about this beautiful mineral please check our turquoise mines page!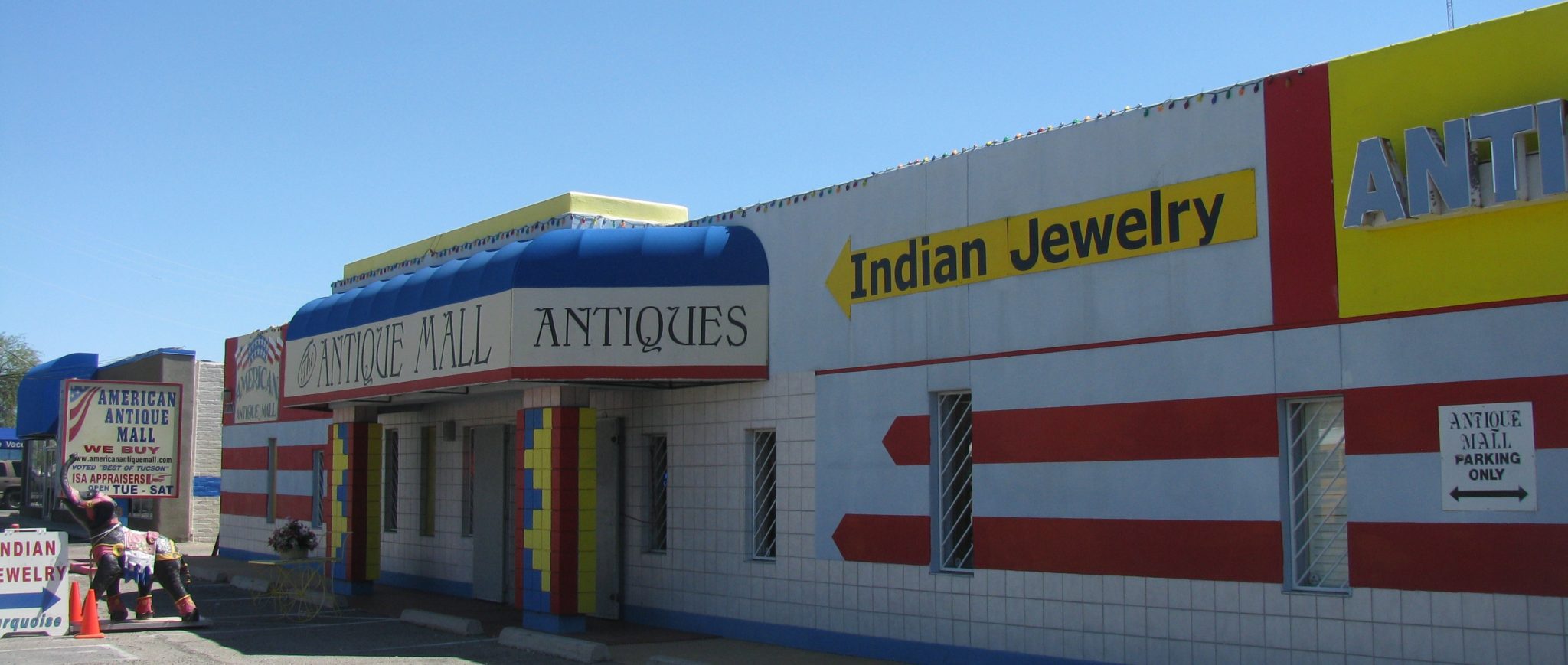 Real Turquoise 1990 – 2021 © Schannep Ventures L.L.C. ALL RIGHTS RESERVED